We are a group of people from different nationalities (at present German, Spanish, Swiss, French, American, Austrian and English).
We are all seekers and we'd met before in tantra courses and retreats.
Following an invitation by Utchi (Frank) in the summer of 2018, we got together in order to explore our common wish to live in an intentional community.
Utchi's goal as initiator is to establish an initial circle of 15-25 people, the "core group", a powerful group ready and willing to put their energy and capacities to work towards the realization of this community project.
He brought in the original vision draft as a result of many years of participating in tantra, yoga, massage and meditation retreats in seminar centres worldwide and visiting and co-working in many communities. He proposed integrating the three concepts of eco-village, tantric-meditative seminar centre and healing centre.
So far, we have met in person several times, during weekend-long encounters, where we have been able to get to know each other and to explore this wish as well as to meditate, dance and enjoy our time together. We also often meet via Skype.
Most of us have many years of inner work, trainings and practice and are facilitators of tantra, meditation, movement, or bodywork. We also have a doctor and a financial advisor in this initial core group!
We aim to purchase a large property in nature where we can develop this vision, in Spain. For the past year we've been looking at many properties and we finally found the Masía de Matuta, which we feel has a lot of what we are looking for and allows for the development of this vision.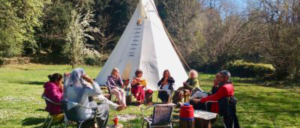 Do you have questions or even want to know more about us?
Contact us via the following contact form: